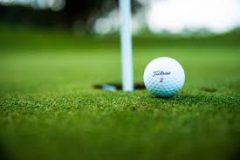 Save the date: Friday, May 8th, 2020. Support Our Lady of Guadalupe School Alumni Association and reserve your spot for the 11th Annual Golf Tournament at the California Country Club in Whittier! ⛳🏌🏼‍♀️🏌🏼‍♂️
Registration will start at 11:30am and tee time will be at 1pm. The maximum number of golfers allowed is 144 so please call and register now for only $150 per golfer. This includes a complete program of special events, 18 holes of golf (including cart), dinner, a goodie bag for each player, and an exciting awards banquet!
If you are a business owner or can not make it, there are other ways to participate and show your support:
Platinum, Gold, Silver, and Bronze Sponsorship opportunities
Or by making a donation to the OLG Alumni Association.
All proceeds will bridge the academic gap for current and future Our Lady of Guadalupe School students with financial aid and improvements to the sports and academic programs. Donations may be tax-deductible.
For questions or to register, call Mr. Bob Razo at (323)229-6487.
Thank you for your support!