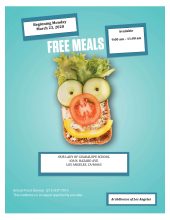 On March 17, 2020, all OLG families should have received communication from teachers via ClassDojo in regard to the federal meal program services being offered through the Archdiocese of Los Angeles, ADLA.
Through this program, children 18 years of age and under may receive breakfast and lunch Monday through Friday. These meals are free of charge and may be served to all children even if not enrolled at our school.
The meals will be delivered to our school in one meal drop-off by our current food vendor, Better 4 You Meals.  These meals include breakfast and lunch for each person and will be distributed between the hours of 9:00 a.m. and 11:00 a.m.
If you are interested in participating, please confirm by 5:00 p.m. on Thursday, March 19, 2020, via ClassDojo. We anticipate the distribution of meals to begin next Monday, March 23rd.  If you have family members, neighbors, or friends with children who are interested in receiving these services, please specify the number when messaging your child's teacher via ClassDojo.