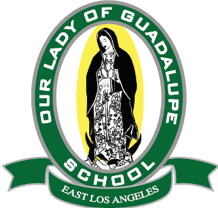 Good morning OLG Family and happy Friday!
We are looking forward to seeing everyone on Sunday, January 30th in celebration of National Catholic Schools Week. Our family mass will take place at 9am inside the church. Your children are encouraged to wear their school uniform as we are promoting Catholic education and if so, they will receive a surprise treat later in the week.
Following mass, we will be hosting our annual Open House. Since teachers will also be attending mass, classrooms will not be opened until 10:15 a.m.
Please ensure to complete the Covid-19 Screening Form included in this post. One form is required per household for every student per grade. Remember to please stay home if you are experiencing Covid-19 related symptoms, have been exposed to anyone who tested positive for Covid-19 in the last 7 days, or if you, yourself have tested positive for Covid-19 in the last 10 days unless you are vaccinated and have proof of a negative test result dated 6 days from the date of when the positive specimen was taken.
https://forms.gle/FQKsusUVUhzahHno6
For everyone's safety, the number of visitors at any one time, inside the classroom will be limited. Every visit will also be limited to 10 minutes to minimize exposure. Please remember that every person must cover the mouth and nose wearing a 3-layer surgical mask with a wire nose rim, N95 or KN95 mask. Keeping everyone safe and healthy is OLG's top priority.
Furthermore, on behalf of Father Marco, the faculty, and staff, I thank you for choosing a Catholic education for your child/children, and for your diligence in following all school protocols.
Sincerely in Christ,
Ms. Figueroa