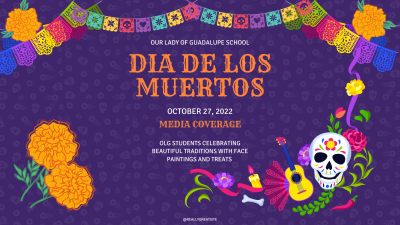 Please check out or social media accounts @OLGLionsLA to check out our new video!
It includes the coverage OLG received yesterday October, 27 2022 for our Dia de Los Muertos event.
This video is a compilation of the press coverage OLG received in reference to el día de los muertos celebrations! Thanks to @lacatholics Archdiocese of Los Angeles , @cbsla CBS Los Angeles, @nbcla NBC 4 Los Angeles Brand Studio, @abc7la ABC 7 Los Angeles – 1949-Today ESTRELLA TV @estrellatv, Catholic Cemeteries & Mortuaries CCM Community outreach.
We are grateful for the recognition, and ecstatic for the attention our OLG students and staff are receiving.
#GoLions #OLGLions #blessed #olglionsla #olglionsproud #DiadeMuertos2022